Peer Ambassador
---
The Peer Ambassador resource provides an opportunity for SAS students to connect with peer ambassadors, who are also SAS students and discuss how to:
use their accommodations effectively,
reach out to faculty to get the most out of their learning experience,
create a connection to the UCF community and ;
utilize on-campus resources at UCF.
If you are a student interested in contacting a Peer Ambassador, please email sasambassadors@ucf.edu. Please be aware that it may take up to 48 hours for a response, so if you have an urgent SAS matter, please call our office at 407-823-2371.
Become a Peer Ambassador
Looking for a volunteer opportunity? Consider becoming a Peer Ambassador !
Peer Ambassadors are volunteers that mentor students connected with SAS that provide valuable information regarding campus resources, tips on how to use accommodations effectively, they help students feel connected to campus and promote disability awareness through a variety of initiatives. Position is remote and on a volunteer basis(unpaid).
Qualifications:
You must be a connected SAS student for one semester
Have a 2.5 UCF GPA
Have the flexibility to meet with students remotely up to 5 hours weekly
Applications for 2020/2021 now closed.
Please contact Melissa.Lesnewski@ucf.edu or call 407-823-2371 if you have a question.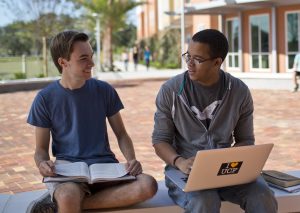 Connect with a Peer Ambassador today! 
Email sasambassadors@ucf.edu or call 407-823-2371.