Free Technology Resources
---
To assist with notetaking and study skills, Student Accessibility Services (SAS) has made both software below FREE to ALL UCF students!
Read & Write Software

Read & Write is a customizable, easy-to-use toolbar that seamlessly integrates with mainstream computer applications and offers you help as you work, highlights and reads text aloud using natural-sounding voices, and includes a comprehensive set of support tools.
Many more features included! See what Read & Write can do for you! To request to download, complete the Read & Write Software Request form.
---
Text-to-Speech – Reads text aloud with dual color highlighting using natural-sounding male and female voices. International voices are also available.
Dictionary – It provides definitions as well as alternative words to help users expand their vocabulary and improve reading comprehension.
Verb Checker – Helps determine correct verb conjugation. Select past, present, or future tense, and the correct verb selection can be inserted directly into the document.
Speech Maker – Quickly and easily select any text and convert it into a sound file, such as MP3.
Fact Mapper – It allows users to produce a visual representation of facts and ideas on screen. Users can also add images and notes to help remember key facts.
PDF Aloud – Reads aloud any accessible Adobe Acrobat PDF file with dual color highlighting.
Translator – Allows single words, paragraphs, or blocks of text to be translated into multiple languages.
Product Feature Video Tours – Video tours of all features are available from the toolbar.
Sonocent Audio Notetaker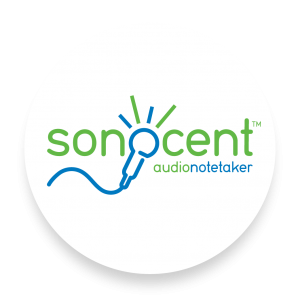 So, what's so great about Sonocent? Admit it, note-taking is just too hard. There is simply too much to do at once. It's like trying to read a book with someone else turning the pages. You are forced to go at their pace, and you don't have a chance to stop taking notes. But with Sonocent Audio Notetaker, you can take detailed, super-useful notes completely independently, by recording, marking up the important bits, and adding slides and reference material alongside. View the demo video for more information. To request a license complete the Sonocent License Request form.
Never miss a thing again
Say goodbye to chasing down information that you missed because the speaker was talking too quickly. Capture every word in lectures, meetings or Skype calls.
Concentrate on understanding, not on note-taking
Without the pressure of frantically scribbling notes down, you can actually think about what you are hearing, make connections with what you already know, and consider how that knowledge could be applied for work or study.
Better notes, better outcomes
With our software you can take the best notes of your life! Get ready for recordings, text notes, images from the whiteboard, slides, and reference material — all saved in the one file and instantly accessible whenever you need it.
Make smart use of videos and podcasts
There's so much valuable educational material online these days. And with Audio Notetaker, you can capture the audio from YouTube videos, TED Talks, podcasts, and more, inserting screengrabs alongside the recording.
Sonocent Recorder App
Want to use your mobile device to record? With Sonocent Recorder app, you can record anywhere and anytime (no need for a laptop or digital recorder) from your phone or tablet. You can annotate and highlight while recording. Of course, you can easily upload to Sonocent Audio NoteTaker software. A great free companion app.
Website Link | Get it on Google Play | Download from the App Store